Economic Development Newsroom
North Carolina is where business thrives. From the Wright Brothers' first flight at Kitty Hawk to today's cutting-edge research, North Carolina continues its legacy as an aerospace leader. PwC ranks our state fifth for aerospace manufacturing attractiveness. Dozens of top aerospace companies have major operations in North Carolina. These include pioneers like GE Aviation, Honda Aircraft Company, HAECO, Cyril Bath, Raytheon Technologies, and Spirit AeroSystems. Aerospace companies choose North Carolina for its winning combination of location, world-class workforce, industry strength, and business-friendly environment. Top-tier customized training programs support industry success. Home to more than 10.5 million residents, our state is the ninth largest in population and ranks third for highest net migration rate in the U.S. With a designation by Forbes as "Best State for Business" three years in a row, more businesses and individuals are joining our community every day.  When deciding where to expand or relocate, consider North Carolina.
Statistics showing PTI's impact:
Jobs Support: 21,540
284 Million in tax Revenue
3.04 Billion in Personal Income
9.3 Billion in Economic Impact
866,700 N.C. Populations within 30 Minutes of the Airport
65,932 Operations (Annual)
107 Based Aircraft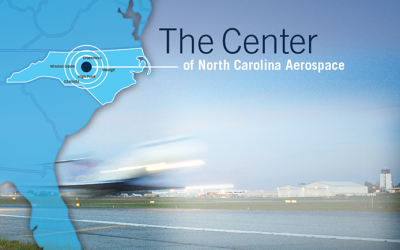 The Piedmont Triad International Airport Executive Director, Kevin Baker, sat down with Neill McNeill recently. It was exciting to hear Kevin share some of the exciting things that are going on at the airport during their conversation. Among the most notable...