Located in the heart of North Carolina, the Piedmont Triad International Airport is at the center of an aerospace boom that has transformed the corridor along Interstate 40 into a job-rich region of aircraft manufacturing, aircraft parts supply and aviation repair and maintenance.
Land Ready for Development at PTI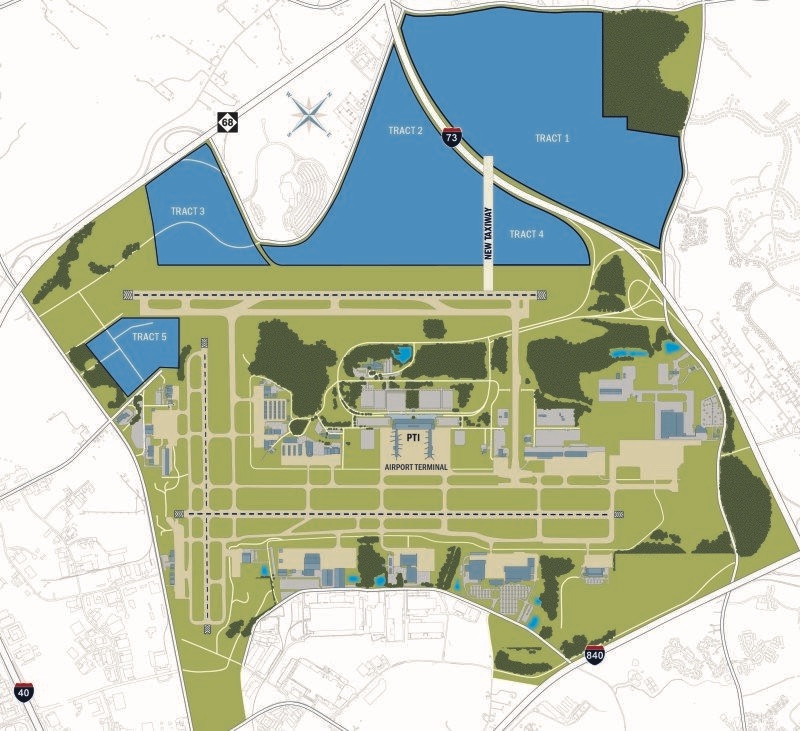 ​​​Tract 1: 430 acres
​All utilities to site
​Runway access by taxiway bridge
​Preliminary NEPA approval
​Preliminary NEPA approval
Tract 3: 93 acres
​Rough graded,Runway access
​Preliminary NEPA approval
Tract 4: 70 acres
​Rough graded, Runway access
​Preliminary NEPA approval
​​Note: ​Tracts may be combined or subdivided as needed. Additional tracts are also available.
| | |
| --- | --- |
| Population: | 1.6 million |
| ​Area: | 12 counties/5,954 square miles |
| ​Major Cities: | Greensboro, High Point, Winston-Salem |
| ​​​College Enrollment: | 150,000 |
| ​Workforce: | 800,000 |
| Rank: | 33rd largest CSA in the U.S. |
| ​Manufacture: | 4th largest manufacturing center in the Southeast |
| ​Industries: | Aviation, advanced manufacturing, life sciences, furniture, logistics |
| Highways: | Interstates 40, 85, 73, 74, 77 |
The Center of an Aerospace Transformation
​Companies such as FedEx, Honda Aircraft Company, HAECO Americas, Cessna, Purolator Advanced Filtration, North State Aviation, B/E Aerospace, Honda Aero and Triumph Aerospace are pushing the envelope of innovation and providing thousands of jobs to skilled aviation workers. In all, nearly 200 aerospace companies are located in the Piedmont Triad, which includes the cities of Greensboro, High Point and Winston-Salem.
​The airport has parallel runways, a modern terminal building and easy access to the airport from several Interstate highways. State and federal governments have ensured that the airport is easy to reach, has modern amenities and is convenient for passengers and tenants alike.
​The airport has more than 1,000 acres of land ready for development, including an 800 acre tract that may be developed in its entirety or in parcels. The property, connected to the airport by a new taxiway bridge has already received preliminary approval for development by the EPA and is ready to host a major tenant.